Max. bending force and length
hP-2740: 2,750 kN x 4,100 mm
hP-2760: 2,750 kN x 6,100 mm
hP-3340: 3,300 kN x 4,100 mm
hP-3360: 3,300 kN x 6,100 mm
hP-4040: 4,000 kN x 4,100 mm
hP-4060: 4,000 kN x 6,100 mm
hP-5040: 5,000 kN x 4,300 mm
hP-5060: 5,000 kN x 6,300 mm
hP-6440: 6,400 kN x 4,300 mm
hP-6460: 6,400 kN x 6,300 mm
Reflex frame crowning compensation system
Adaptive Crowning
300 mm stroke with 500 mm table ram daylight
Hydraulic hardened upper clamping for Wila style tools
Hydraulic hardened lower clamping for Wila style tools
Self-centring table
2 standard front supports
CNC controlled 4 axes back gauge: X, R, Z1, Z2
DSP-AP Laser Safety device with PLC
1 standard foot pedal
Work area LED lighting
TeleService remote assistance
CNC Esa S660W
Hydraulic unit
Hydraulic bending technology by Prima Power
Prima Power hP press is the hydraulic response for high tonnage market.
It is the perfect combination of force and versatility of the hydraulic technology, as well as of energy saving and sustainability of the ECO package. The Adaptive Crowning and the Reflex System make this press brake the most accurate machine in today's market.
The hP can be connected in tandem, or integrated into automated lines or robotic cells.
Accuracy
Adaptive Crowning
To avoid and compensate any deflection of the frame, a triple bottom table is supplied. This solution allows installing the Adaptive Crowning with the advantage to measure the ram deflection and to compensate in real time, in order to manage the material variability.
Two precision sensors adapt in real time to the ram deformation: the first one detects the ram yield from the beginning of the bend, the CNC activates the cylinders in the lower ram until the reading of the second sensor is equal to the first one.
This leads to the complete control at maximum precision and absolute repeatability, with any material.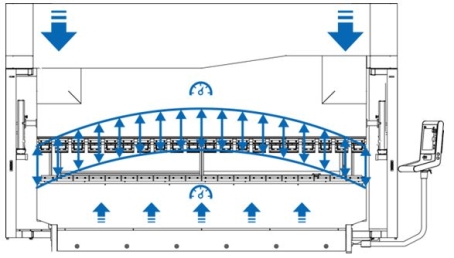 Reflex Compensation System
During the bending, the side frames are subject to strong forces that cause the deformation of the throat area. This effect is shown in the top beam moving away from the lower beam, compromising the accuracy of the control systems.
Reflex controls the deformation of the side frames thanks to different machine sensors and its hydraulic circuit.
The position of the ram is always under control during the bending process to guarantee the repeatability of the angle, whatever the part length, thickness variations, part positioning and sheet characteristics.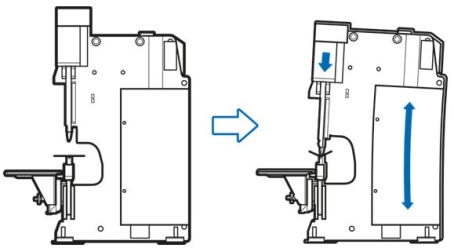 For a quote, prices, insights, and questions, one of our experts is available to assist you.
Form and finish
PAB Fabrications Ltd, U.K. | International Sheet Metal
Download >
---
Maximizing the Bend
Champion Tool Storage | CNC West
Download >
| Video >
---
Out with the Old Batch, in with Something New
Siemens Industry Automation Division (West Chicago, IL, USA) | The Fabricator
Download >
| Video >
---
Stoking the flame
Wolf Steel. LTD. (Barrie, ON, Canada) | Canadian Metalworking
Download >
---
Bright lights, big opportunity
Orion Energy Systems (Manitowoc, WI, USA) | The Fabricator
Download >
---
New fabrication technology
Electric Equipment & Engineering Co. (Denver, CO, USA) | CNC West
Download >
---
Taming the recession
NU-AIR Ventilation Systems, Inc. (Windsor, NS, Canada) | Canadian Metalworking
Download >
| Video >
---
Automated Turret Press Triggers Growth for Captive Sheetmetal Shop
AG BODY, INC. (Salt Lake City, UT, USA) | Metalforming
Download >
---
Day-Brite Lighting Shines Light on Integrated Automation
DAY-BRITE LIGHTING (Tupelo, MS, USA) | Metalforming
Download >
---
Ovenmaker learns the lessons of fabricating
Wood Stone Corporation (Bellingham, WA) | The Fabricator
Download >
| Video >
---
New Turret Press Keys Productivity Turnaround
King Electric MFG. Company (Seattle, WA, USA) | Metalforming
Download >
| Video >
---
Servo-electric press brake hightens accuracy, lifts productivity
Laicor Fixtures (Peterborough, Ontario) | MetalForming
Download >
---
Laser Automation Sparks Productivity
Great Lakes Manufacturing, Inc. (Corry, PA) | Modern Applications News
Download >
| Video >
---