Dunbarton, meeting objectives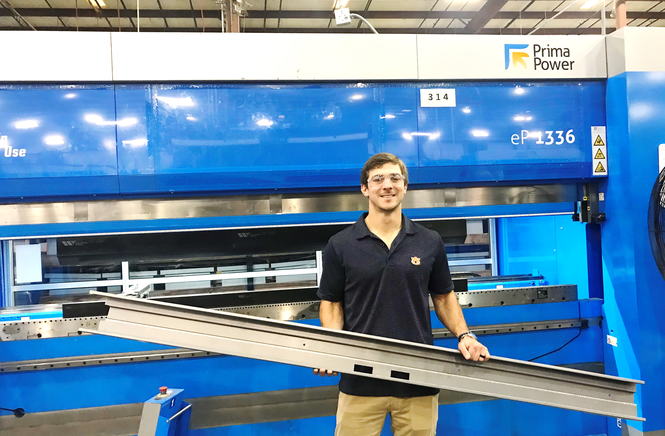 Fabricator achieves higher productivity and accuracy with servo-electric technology.
Dunbarton Corp. has worked in the building products business for more than 70 years. The Dothan, Alabama, company produces steel closet doors. Its product lines include Rediframe pre-finished door frames, Slimfold closet systems and Achiever entry systems. Dunbarton deploys numerous pieces of sheet metal fabrication equipment for stamping, cutting, welding and bending parts in a 135,000-sq.-ft. facility. Its operation includes a satellite facility is Camden, Tennessee and a nationwide network of distributors.
In 2021, the company began a search to upgrade its older hydraulic press brakes.
"We had three main objectives in our search for a new press brake," explains Trevor Windham, senior engineer. "Cost effectiveness, machine capability and reliable machine maintenance. After speaking to many manufacturers, we chose Prima Power. We felt that Prima Power's servo-electric eP-Press Brake offered the latest state-of-the-art technology for improved precision and accuracy. Prima Power also provided a needed upgrade in technical customer service."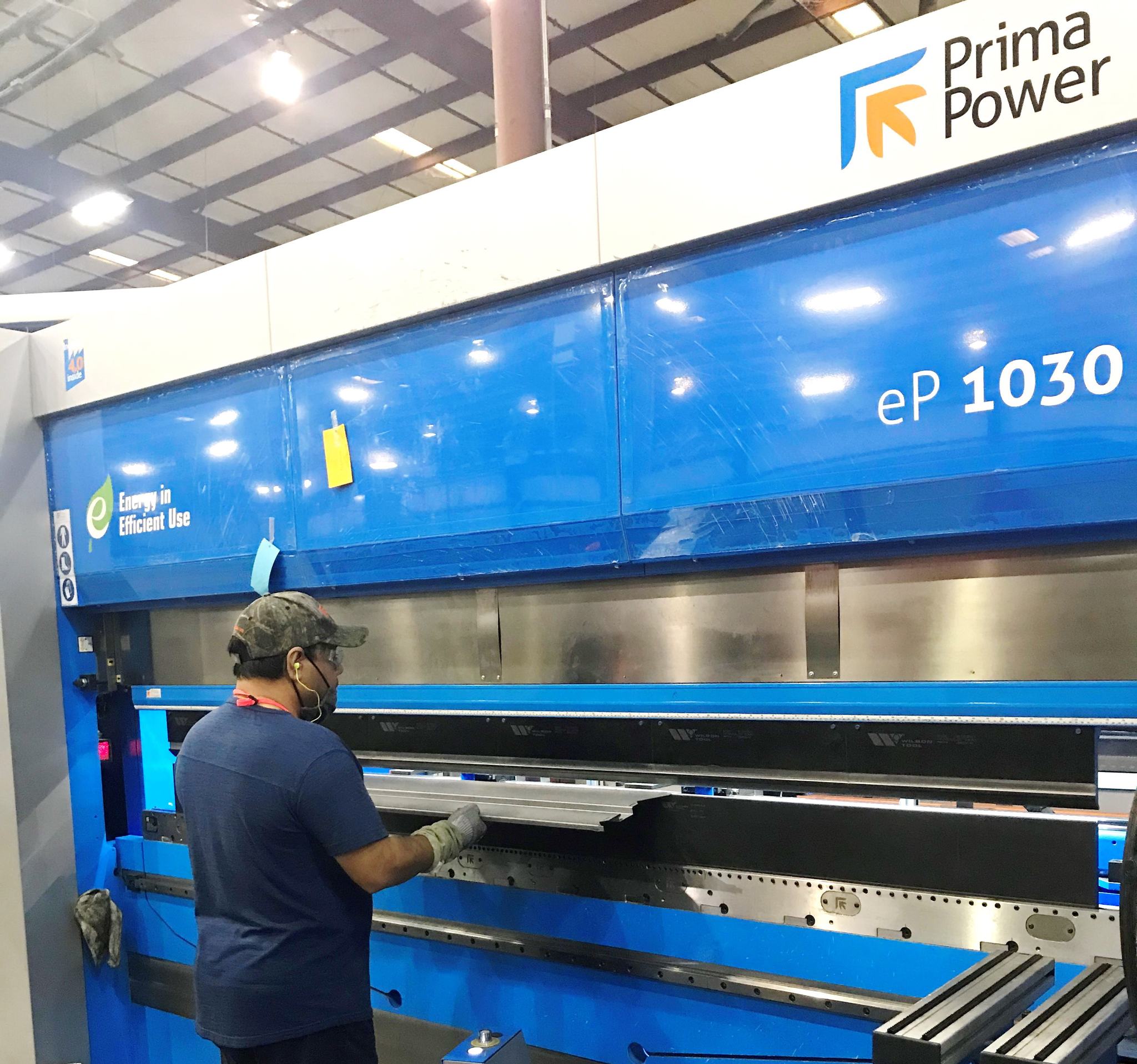 SEAMLESS TRANSITION
The eP-Press Brake is engineered with a servo-driven electric drive system that features high acceleration, deceleration and fast response times. Compared with conventional press brakes, productivity is significantly increased while cycle times are reduced. The pulley-belt system is actuated by Prima Electro servo drives and distributes the bending force over the entire bending length. The system consists of fixed and moving rolls spread out over the total working length of the upper beam. Servo-motor drives offer superior movement control and accuracy. A rigid O-frame ensures tool alignment even under stress deformation since there is no horizontal displacement. The position of the upper beam, in relation to the lower beam, is measured by dual Y1 and Y2 linear encoders that are attached independently of the machine frame and are bed referenced. This design isolates ram positioning accuracy from deflection in the side frames under load, and maintains accurate positioning even during off-center bending operations. Ram repeatability is ± 0.005 mm.
"Our first Prima Power servo-electric press brake, the eP-1336, was delivered in June 2021," explains Windham. "Most of our older presses were either hydraulic or pneumatic. It was a giant step for us to get away from the hydraulics and into a servo-electric press brake. There is little or no maintenance on the Prima Power press brake. The eP-1336 replaced two older hydraulic models. The transition has been flawless. Our downtime and maintenance have been cut dramatically. We also experienced the professionalism and reliability of their service technicians and how they were able to quickly train our operators. This, combined with the user friendly interface for our press brake operators, led to our decision to purchase two additional eP-Press Brakes, which were delivered later the same year."
An operator-friendly 17-in. touch screen user interface improves data input rates and reduces programming time. Twodimensional graphical programming with automatic bending sequencing also assists first-time users.
EASY TO USE
AutoPOL is an easy-to-use and effective tool for offline programming. Sophisticated bending simulation makes it possible to shorten set-up times.
"We really like the Prima Power AutoPOL," Windham says. "We had operators who were used to running the older machines and were a little nervous about coming into the new servo-electric press brakes. The user interface is friendly even for people who were not tech savvy. The large touch screen provides the ability to program while you are working, with the ability to change a program by clicking a few buttons.

"Our operators had a flawless transition from the old machines where they had to wait for the programs to be sent in from another technician," he says. "With the Prima Power press brakes, the operators are able to go through and pick their program while viewing a visual simulation of the bends. On the older models, we didn't have that digital screen where they could go through step-by- step and see the actual bend to verify the process. As a result, we have experienced a significant reduction in waste due to operator error."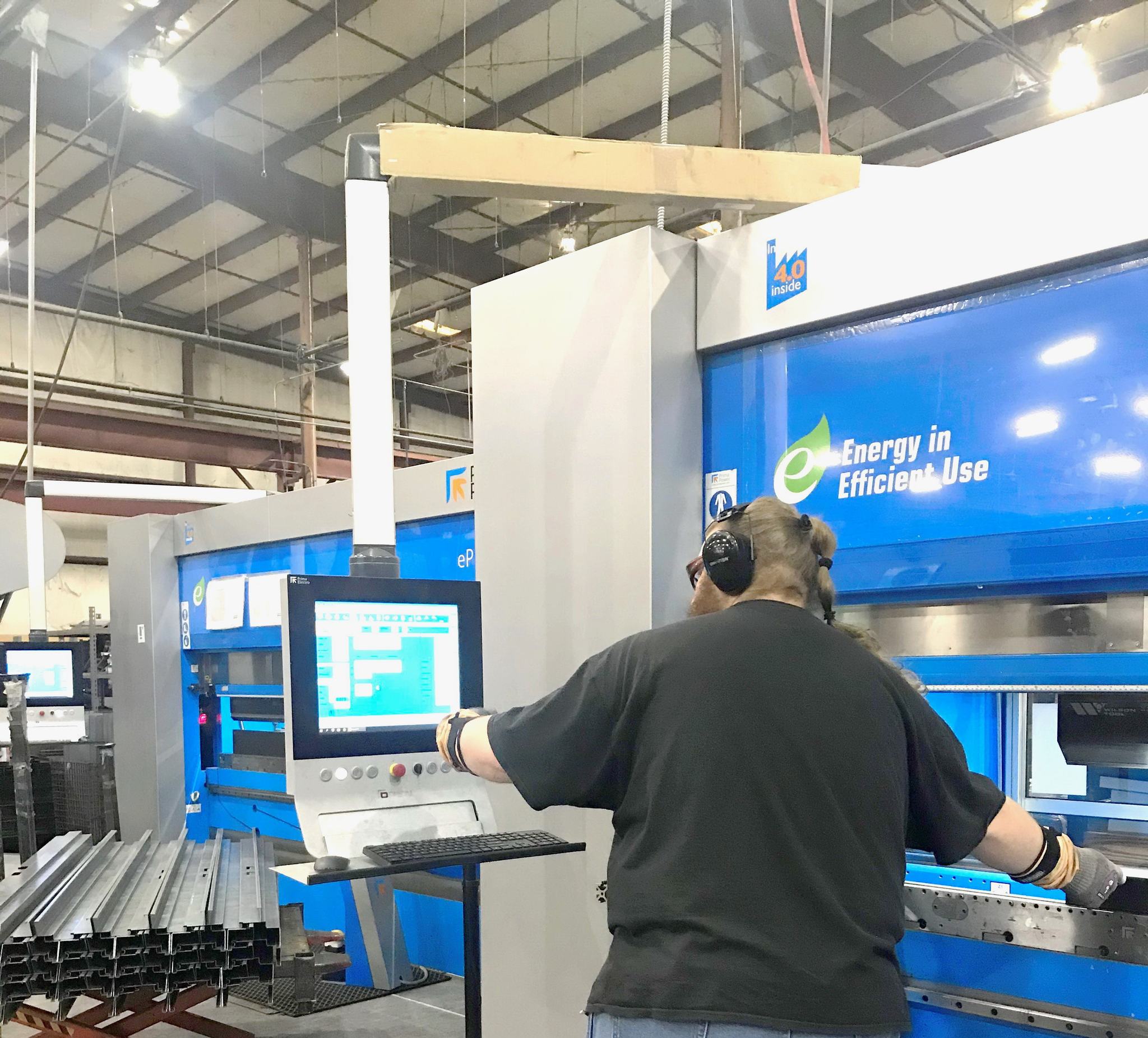 Like other manufacturers, Dunbarton's workforce is getting younger with fewer skills. The eP Press Brake gives Dunbarton the ability to plug in operators that have little or no experience running press brakes. Training to run the eP-Press Brake safely and efficiently can take as little as a few hours.
"We have some door frame programs that get a little complicated when you bend it and flip it several times," says Windham. "So having the ability to see how many bends, how many times it needs to be flipped, and the orientation it needs to be flipped are critical steps. The servo-electric press brake makes it possible for a relatively new operator to hit the ground running."
Headquarters
Dothan, AL, USA
The eP-1336 replaced two older hydraulic models. The transition has been completely flawless. Our downtime and maintenance times have been cut dramatically. We experienced the professionalism and reliability of the Prima Power service technicians and how they were able to quickly train us our operators.
Trevor Windham
Senior Engineer